[In Featured New Properties]
(CO-7500) TITLED OCEAN FRONT PROPERTY IN BOCAS DEL DRAGO

(CO-4250) SPACIOUS LUXURY VILLA IN BOTANICAL GARDEN!

(MN-1000) 94 ACRE TITLED JUNGLE PRESERVE WITH LOTS OF WATER FRONTAGE!

(MN-320) 34 BEAUTIFUL ACRES LOCATED IN TIERRA OSCURA

(CO-2200) UNBELIEVEABLE HOUSE OVER THE WATER!

(CA-8500) AFFORDABLE INVESTMENT OPPOURTUNITY!

(CO-3000) MAIN STREET LUXURY HOTEL FOR SALE

(BA-9050) TWO ACRES OF PARADISE WITH A WHITE SAND BEACH!

(BA-9000) PRIME BEACHFRONT PROPERTY ON BASTIMENTOS

(CO-6000) TITLED OCEAN VIEW HOME ON ISLA COLON!

(CO-5950) EXQUISITE WATERFRONT HOME WITH EXCELLENT RENTAL HISTORY!
See more properties..
home > bocas del toro properties > $300k-400k
(SO-100) ISLA SOLARTE WATERFRONT HOME ON 1.5 ACRES: $349,000 With incredible ocean and lagoon views, quiet pristine surroundings and completely furnished, this house is only 10 minutes from Bocas del Toro on Solarte Island. In move-in ready shape, it is built with concrete posts and beams enclosed by panels of indestructible Covintec. CLICK ON PHOTO FOR MORE INFO.....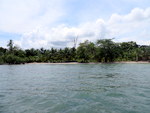 (PO-240) TITLED BEACHFRONT PROPERTY ON ISLA POPA: $339,000 This TITLED 9.4-acre property on Isla Popa, with rolling hills and over 380 feet of beachfront is a rare treasure. The property is bursting with palm, banana and papaya trees, and an assortment of tropical flowers! CLICK ON LINK FOR MORE INFO.....


(BA-3150) THREE BEDROOM 3 BATH HOUSE IN A SMALL TROPICAL BEACH DEVELOPMENT: $315,000 If you are looking for an escape in Paradise look no further. This Caribbean beach house located on Isla Bastimentos is the perfect option. The 45 minute boat ride from Bocas never gets old as you navigate through coral reef.....CLICK ON LINK FOR MORE INFO.....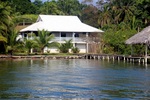 (SO-400) TITLED OCEANFRONT HOME WITH PRIVATE BOAT DOCK: $324,500 Watch island time go by in this beautiful TITLED Caribbean Style home located on Isla Solarte. Conveniently located just 5 minutes from Bocas town.....CLICK ON LINK FOR MORE INFO.....



(CO-680) BOCAS RENTAL INCOME PROPERTY - 5 COTTAGES: (PRICE REDUCED) Five newly built rental cottages for sale on a titled Bocas town lot within walking distance to Main Street. Four cottages are 1 Bed/1 Bath with 336 sq. ft. of living space plus 120 sq. ft. of porch or brick patio. There is one 2 bed/2 bath cottage. CLICK ON PHOTO FOR MORE INFO.....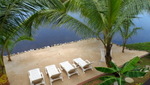 (IS-375) LIVE THE CARIBBEAN DREAM ON YOUR OWN PRIVATE ISLAND!: $360,000 This 2 bedroom, 1 bath house is absolutely turn-key, fully self powered with more than enough energy and water. That combined with the beautiful tropical climate....CLICK ON PHOTO FOR MORE INFO.....


(MS-500) 40 HECTARES OF PRISTINE JUNGLE WITH WATERFALL: PRICE REDUCED TO: $299,000 40 hectares (100 acres) situated in the beautiful pristine jungle of Cauchero. Cauchero is one of Bocas' hidden secrets, located a scenic 45 minutes away from Bocas town. The property has 740 meters of calm waterfront. CLICK ON PHOTO FOR MORE INFO.....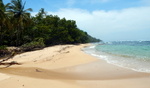 (BA-700) TITLED BEACH FRONT PROPERTY IN PUNTA VIEJA ON BASTIMENTOS---SURFER'S PARADISE!: $350,000 This beautiful titled beachfront property with 27+ acres is located on the Caribbean side of Bastimentos near Pelican Key. With over 500+ meters of pristine beach front, .....CLICK ON PHOTO FOR MORE INFO.....


(CO-3950) OVER 4.5 ACRES WITH ELEVATION ON PLAYA PAUNCH: SOLD! Location, Location, Location! This TITLED property is located in the very popular Paunch Beach and has 480 feet of road water frontage. Bocas' famous surf spot Tiger Tail is just a minute away down the beachfront road.....CLICK ON LINK FOR MORE INFO.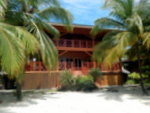 (BA-1500) BEACHFRONT HOME ON WHITE SANDY BEACH: SOLD! A scenic 45 minute boat ride away from Bocas town you will find this BEACHFRONT, off-the grid home located in Salt Creek, Isla Bastimentos. This could be a great beach home for your family or could be turned into a boutique hotel. CLICK LINK FOR MORE INFO.....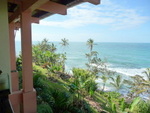 (CO-4000) DRAGO BEACHFRONT ESTATE: SOLD! Drago beachfront estate located in a very private, exclusive area of Playa Drago. This property boasts over 450 feet (144 meters) of Caribbean water frontage with a 7 meter exclusive white sand beach and access to neighboring 150 meter beach. CLICK LINK FOR MORE INFO.....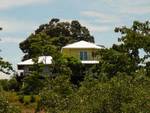 (SC-350) NEWLY BUILT CUSTOM HOME ON SAN CRISTOBAL: SOLD! Custom built home was completed in September 2012 by local highly respected builder, built to an impeccable finish, luxury permanent or vacation home built from Nispero and Plycem Boarding.....CLICK LINK FOR MORE INFO.....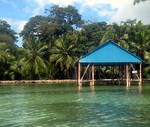 (CA-100) TROPICAL 4 BEDROOM WATERFRONT HOME ON CARENERO: SOLD! Casa Zona Tropical is truly one of Isla Carenero's finest. This 4 bedroom, 3 bath home sits on a 1.43 acre a lot with 90 feet of water frontage and is a Caribbean beauty. The large front porch is an incredible space for relaxing and taking in the ocean views while you enjoy the soundsof tropical birds and waves crashing in the distance. CLICK ON PHOTO FOR MORE INFO.....


(SO-120) TURN-KEY WATERFRONT TROPICAL RAINFOREST RETREAT: SOLD! Come relax and live in style in this fully furnished 3 BR/3BA custom built home situated on 1.2 acres of land with 432 feet of waterfront. There is also an additional guest or caretaker's quarters with a bedroom and bathroom making the property a total of 4BR/4BA compound. CLICK ON PHOTO FOR MORE INFO.....