[In Featured New Properties]
(CO-3390) OCEAN VIEW THREE BEDROOM HOUSE IN BIG CREEK

(CO-950) COMMERCIAL WATERFRONT LOT IN THE HEART OF DOWNTOWN!

(C0-1790) AFFORDABLE TWO BEDROOM OCEAN VIEW CONDO!

(SO-210) BEAUTIFUL JUNGLE HOME WITH CARIBBEAN VIEWS!

(CO-4650) TITLED FOUR BEDROOM HOME ON BLUFF BEACH!

(C0-3600) TITLED THREE BEDROOM HOUSE ON ISLA COLON!

(CO-1190) TITLED 5 ACRES OF UNSPOILED JUNGLE IN PAUNCH!

(CO-2300) TITLED ISLAND HOME ON ISLA COLON!

(CO-7500) TITLED OCEAN FRONT PROPERTY IN BOCAS DEL DRAGO

(CO-4250) SPACIOUS LUXURY VILLA IN BOTANICAL GARDEN!

(MN-1000) 94 ACRE TITLED JUNGLE PRESERVE WITH LOTS OF WATER FRONTAGE!
See more properties..
home > bocas del toro properties > islands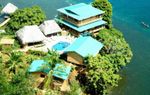 (IS-1000) TROPICAL ISLAND GETAWAY!: UNDER CONTRACT! Live a vacation all the time here!!! Family oriented for a residence or vacation home. This cozy island just off Isla Solarte would be the envied trophy of just about everyone who ever dreamed of owning their own Caribbean Island. CLICK LINK FOR MORE INFO.....



(IS-210) SMALL ISLAND IN DOLPHIN BAY: $32,000 This small island of 610 square meters (6,000 square feet) is in a very cute area near Bocatorito with great views of Dolphin Bay. The lot is small, but elevated, and is perfect for a single-family home! Protected with deep water....CLICK LINK FOR MORE INFO!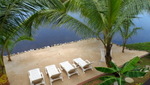 (IS-375) LIVE THE CARIBBEAN DREAM ON YOUR OWN PRIVATE ISLAND!: $295,000 This 2 bedroom, 1 bath house is absolutely turn-key, fully self powered with more than enough energy and water. That combined with the beautiful tropical climate....CLICK ON PHOTO FOR MORE INFO.....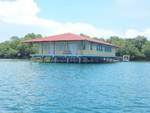 (IS-425) 9 ACRE PRIVATE ISLAND WITH HOUSE BUILT OVER THE WATER: $425,000 This is a rare find as you can own your very own Island here in the Caribbean with endless possibilities. An over the water resort would be ideal for this island. The island includes a house built over the water as well as an 18 x 20 caretaker's residence on land. CLICK LINK FOR MORE INFO.....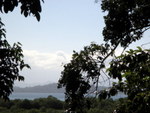 (IS-125) PROTECTED ISLAND IN A TRANQUIL SETTING!: SOLD! This small island has a lot of potential and located just 15 minutes away in a protected bay. The elevated island has a great home-site with 1706 m2 (.42 of an acre) of land. Property has a starter cabin, bodega and the start of a dream home. CLICK ON LINK FOR MORE INFO.....