NEW PROPERTIES ARE ADDED WEEKLY! PLEASE CHECK BACK OFTEN.

[In Featured New Properties]
(CO-6500) BREATH TAKING BEACH FRONT HOME WITH JUNGLE!

(CO-3390) OCEAN VIEW THREE BEDROOM HOUSE IN BIG CREEK

(CO-950) COMMERCIAL WATERFRONT LOT IN THE HEART OF DOWNTOWN!

(C0-1790) AFFORDABLE TWO BEDROOM OCEAN VIEW CONDO!

(SO-210) BEAUTIFUL JUNGLE HOME WITH CARIBBEAN VIEWS!

(CO-4650) TITLED FOUR BEDROOM HOME ON BLUFF BEACH!

(C0-3600) TITLED THREE BEDROOM HOUSE ON ISLA COLON!

(CO-1190) TITLED 5 ACRES OF UNSPOILED JUNGLE IN PAUNCH!

(CO-2300) TITLED ISLAND HOME ON ISLA COLON!

(CO-7500) TITLED OCEAN FRONT PROPERTY IN BOCAS DEL DRAGO

(CO-4250) SPACIOUS LUXURY VILLA IN BOTANICAL GARDEN!



See more properties..
home > other panama properties > homes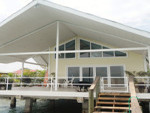 (CO-5950) EXQUISITE WATERFRONT HOME WITH EXCELLENT RENTAL HISTORY!: $595,000 This stunning home is built over the water affording some of the best views in Bocas. It is the only property of this standard ideally situated on Isla Colon in the town of Bocas del Toro and is within a short walking distance.....CLICK ON LINK FOR MORE INFO.....


(SO-220) ISLA SOLARTE CUSTOM BUILT NISPERO HOME: Custom Built home on Isla Solarte. Great location. Only 15 minutes from Bocas Town and across from the entrance to Red Frog Beach. Deep water for sailboats. Click on photo for more info.....