[In Featured New Properties]
(CO-3390) OCEAN VIEW THREE BEDROOM HOUSE IN BIG CREEK

(CO-950) COMMERCIAL WATERFRONT LOT IN THE HEART OF DOWNTOWN!

(C0-1790) AFFORDABLE TWO BEDROOM OCEAN VIEW CONDO!

(SO-210) BEAUTIFUL JUNGLE HOME WITH CARIBBEAN VIEWS!

(CO-4650) TITLED FOUR BEDROOM HOME ON BLUFF BEACH!

(C0-3600) TITLED THREE BEDROOM HOUSE ON ISLA COLON!

(CO-1190) TITLED 5 ACRES OF UNSPOILED JUNGLE IN PAUNCH!

(CO-2300) TITLED ISLAND HOME ON ISLA COLON!

(CO-7500) TITLED OCEAN FRONT PROPERTY IN BOCAS DEL DRAGO

(CO-4250) SPACIOUS LUXURY VILLA IN BOTANICAL GARDEN!

(MN-1000) 94 ACRE TITLED JUNGLE PRESERVE WITH LOTS OF WATER FRONTAGE!
See more properties..
home > bocas del toro properties > loma partida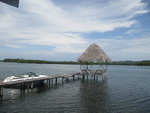 (LP-1000) OVER THE WATER CABIN WITH 2+ ACRES OF TROPICAL PARADISE!: UNDER CONTRACT! Thirty minutes South of Bocas Town you will find a special little area called Loma Partida. The well maintained property is a Tropical Paradise with with banana, coconut, mango, lime and other trees. Property also has pineapple and many other tropical plants. CLICK ON THE LINK FOR MORE INFO....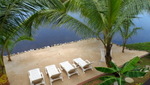 (IS-375) LIVE THE CARIBBEAN DREAM ON YOUR OWN PRIVATE ISLAND!: $295,000 This 2 bedroom, 1 bath house is absolutely turn-key, fully self powered with more than enough energy and water. That combined with the beautiful tropical climate....CLICK ON PHOTO FOR MORE INFO.....